Unarmed Security Officer & Unarmed Security Guard
Multiple Locations across California, Part Time & Full Time
Pay Rate Range: $17.00-$28.00
Lead Star Security is looking for unarmed security officers and unarmed security guards, both full time and part time positions available. If you are client oriented and committed to the highest level of client satisfaction, then we have opportunities for you.
Benefits:
Health Benefits
Employment Type:
Primary Responsibilities of an Unarmed Security Guard:
Vehicle patrol of the site/facility that provide safety by observing and reporting efficiently
Foot patrols of site/facility as directed in the Post Orders to report any findings and/or site irregularities
Provide rapid response to all trespassing, loitering, alarms, and all emergencies on properties
Report safety hazards and violations to your Direct Supervisors and reflected in DAR
Prepare and submit detailed and informative D.A.R.'s and/or Incident Reports in a timely and efficient manner
Be able to understand and execute all post orders and required duties
Must know and respect all chain of command pass-downs
Must be able to work effectively both indoors and outdoors during all weather conditions.
Work Conditions:
Work is performed on foot and in a motor vehicle; may be exposed to inclement weather. Must be able to stand, climb, walk, run, bend and jump for extended periods of time. May require physical contact of a combative nature for self-defense. Must be able to safely lift and carry up to 40 pounds. May require working overtime, weekends, and rotating shifts on short notice.
Our Requirements:
Current CA BSIS Guard Card
Reliable transportation to and from work
No prior security experience required – Entry Level ability
Possess excellent interpersonal skills and ability to communicate effectively with customers, other team members, and leadership.
Must have and use a reliable Android or iOS cellphone (will be required to download guard patrol software application)
Should be at least 18 years of age or older as required by applicable law
High school diploma, GED and/or equivalent
Be able to start working immediately of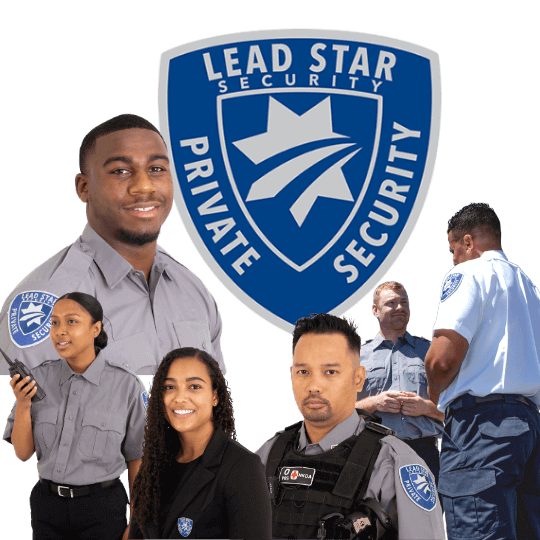 Necessary Skills:
Non-lethal permits are preferred and a plus
ODO/RLEO/Military Experience is a plus
Current First Aid & CPR Certification is preferred
Knowledge of laws and Penal Codes related to the job preferred.
Ability to maintain satisfactory attendance and punctuality standards
Neat and professional appearance is a must
Friendly and professional demeanor is a must
Ability to handle typical and crisis situations efficiently and effectively
Excellent observation skills
Strong ethics and integrity
Bilingual a plus
"Working for Lead Star Security has helped my grow my career in become a part of something special"

Apply For This Position
Personal Information
Please complete all of the required fields to be considered for a position at Lead Star Security. Thank you!