Retired Law Enforcement Officers (RLEO)/Off-Duty Officers (ODO)/Executive Protection (EP) Careers
Single Location, Part Time & Full Time
Pay Rate Range: $25.00-$40.00
Lead Star Security is seeking Retired Law Enforcement Officers (RLEO)/Off-Duty Officers (ODO)/Executive Protection Officers (EP) to become an integral part of our growing security team. The selected individual will patrol and secure assigned premises as well as identify risks to staff and patrons.
Benefits:
Health Benefits
Employment Type:
Primary Responsibilities:
Will be a visible presence of the establishment and/or site ensuring all safety and security procedures are being enforced to ensure the safety and security of all personnel, visitors, and customers.

Interior and exterior crowd/line control management as specified by management
Must maintain a calm demeanor even during periods of high volume or unusual events and possess excellent interpersonal skills and ability to communicate effectively with customers, other team members, and leadership.
Maintains regular and consistent attendance and punctuality
Consistent and quality demeanor; Greets all personnel, visitors, & customers upon entry with a positive demeanor
Secures premises and personnel by patrolling property; monitoring surveillance equipment; inspecting buildings, equipment, and access points; permitting controlled entry
Protecting company's property and staff by maintaining a safe and secure environment by observing for signs of crime or disorder and investigate disturbances, informing violators of policy and procedures; restraining trespassers, assessment and screening of visitors and personnel.
Prepare and submit D.A.R.'s and/or Incident Reports in a timely and efficient manner and as directed by management.
Our Requirements:
Minimum of 2 years of security experience & 1 year of armed security experience.

Current CA BSIS Guard Card & Firearm Permit

Must have a valid driver's license and clean driving record

Reliable transportation to and from work

Must know how to use a Smart Phone with Texting/E-Mail capabilities

Should be at least 21 years of age or older as required by applicable law

High school diploma, GED and/or equivalent

Provide quality customer service and effective communication skills both orally and in writing

Be able to start working immediately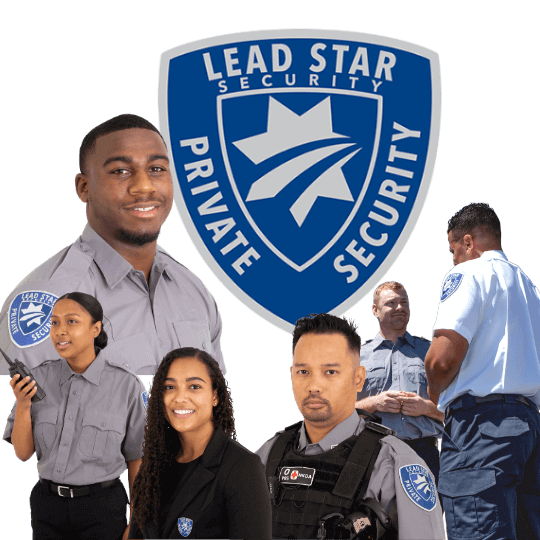 Necessary Skills:
ODO/RLEO/Military Experience is a plus
Current First Aid & CPR Certification is preferred
Baton, OC Spray, and CEW permits are preferred
Ability to maintain satisfactory attendance and punctuality standards
Neat and professional appearance is a must
Friendly and professional demeanor is a must
Knowledge of BCC rules and regulations is a must
Ability to provide quality customer service is a must
Ability to handle typical and crisis situations efficiently and effectively
Bilingual a plus
Excellent observation skills and strong ethics and integrity
Ability to work independently or as part of a small group to resolve urgent issue
Provide precise/clear information while working under minimum supervision.
"Working for Lead Star Security has helped my grow my career in become a part of something special"

Apply For This Position
Personal Information
Please complete all of the required fields to be considered for a position at Lead Star Security. Thank you!